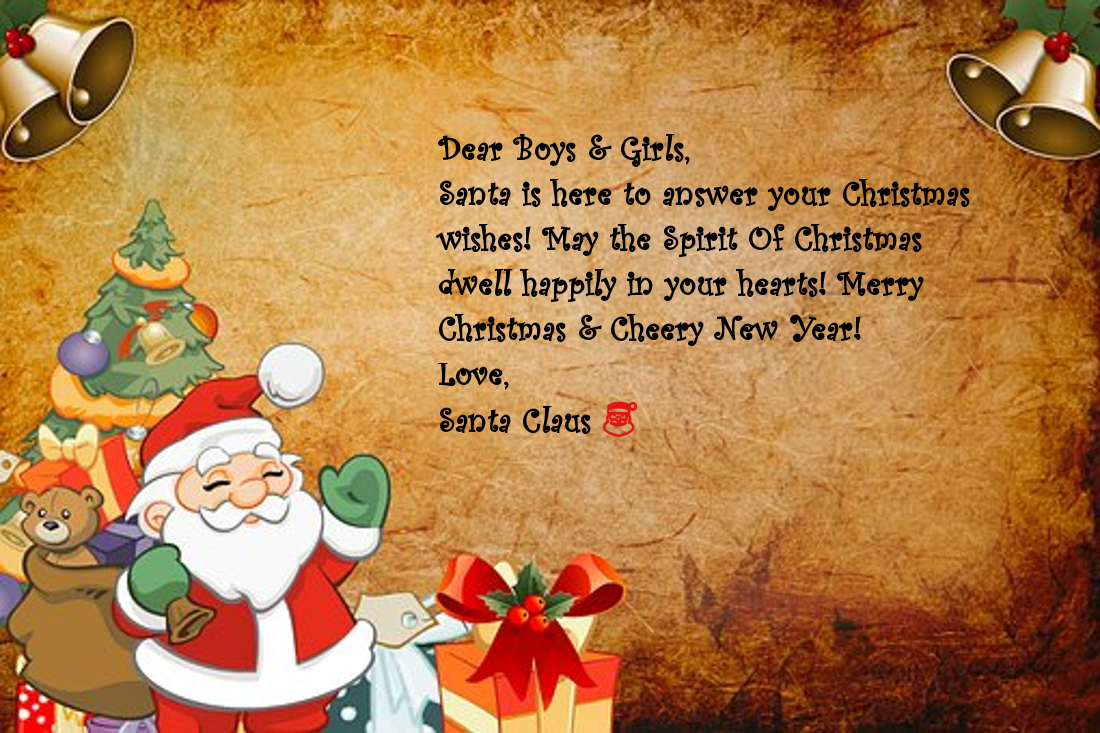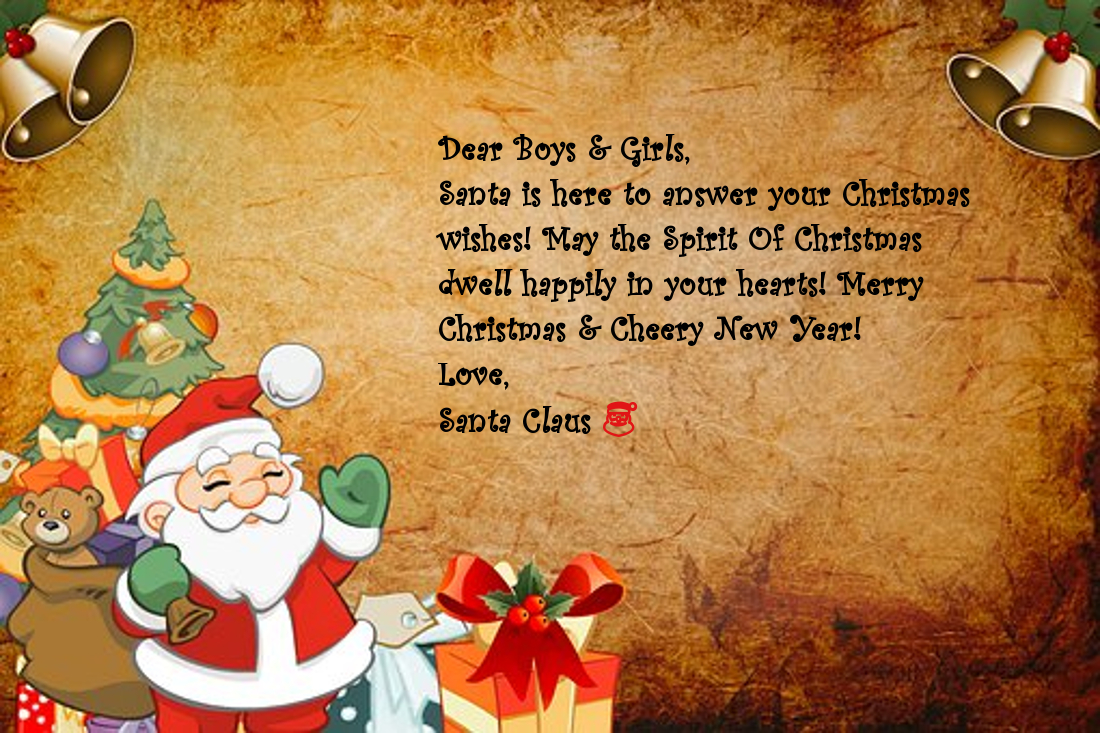 Below are letters to Santa Claus from kids in the supernatural community. Many in the paranormal world have knowledge of Santa and North Pole City. If they find it on their own then they're meant to be there and can visit whenever they like. Others may receive an invite if Santa notices the good they've done for humankind. Most often protecting innocent people from monsters, dark magicians, and other things that go bump in the night! May all who sacrifice their own safety to defend others be blessed holy in the eyes of Santa Nicholas!
——
Dear Santa Claus,
My daddy is always away! I haven't seen him in weeks! My mommy says he's saving people from vampires. He wasn't even here last Christmas. All I want for Christmas is my daddy to be home. Please make him come home to us.
Love,
Penny
—
Dear Penny,
I commend the bravery & sacrifice your father makes in his battle against #vampires. I know it's hard to be without him for so long as he fights to protect humankind. You and your mother must be strong and be proud of all the lives he's saved while being away from you. His holy work has not gone unnoticed which is why I invite all of you to North Pole City to spend Christmas with me! I promise he will be with us at the North Pole for Christmas if I have to get him there myself! May the Spirit Of Christmas see you through happily into the New Year!
Love,
Santa🎅
Update: Indeed Santa compelled Penny's Father to join her at North Pole City for Christmas. It didn't hurt that Santa personally neutralized a major vampire threat thereby releasing any guilt her Father might have felt taking off from his job of protecting the innocent.
---
Dear Santa,
My mom was a good witch who died over the summer saving people from zombies! The Necromancer who made them leave their graves is now holding her ghost hostage! Nobody can help her! Please let my Mom go to Heaven with the Angels for Christmas.
Love,
Johnny
—
Dear Johnny,
I was saddened to hear that your mom died defending innocent people from zombies! I'm even more alarmed to hear a powerful Necromancer has been holding her ghost hostage!👻Don't worry Johnny I will save her in time for Christmas!
Love,
Santa🎅
Update: Santa Claus paid the extremely arrogant Necromancer a visit. He laughed at Santa as he had no idea Demi-Angels even existed. He sent a legion of Walking Dead zombies and vengeful ghosts to attack Santa! Santa turned the zombies to ash with the waving of his hand and a bright white light. Santa then commanded all spirits imprisoned by the Necromancer to be released to Heaven by the power of his Nicholas Sainthood. The Necromancer was stunned and fled the scene in shame! Later at North Pole City Johnny spent Christmas with his mom. Santa was able to make her ghostly form visible and solid. She later ascended to Heaven but would return every Christmas to be with her son!
---
Dearest Santa Claus,
I just turned 16 and feel that I'm perhaps too old to be writing you? Still I must contact you with some important news! I recently took possession of my late Grandfathers journals. He was a demon hunter and exorcist. His journal indicates he had found a way to magically ward entire cities against demonic possession. Every last person within its borders would be safe from the demons of Hell! Unfortunately, the key pages have been mysteriously ripped out! It's almost as mysterious as my Grandpa's death itself! Please try to contact him in Heaven or travel back in time to find out what he discovered! Efforts to use a Medium and other mystical means have failed to get through to him. I wish you could save him but I know there are certain rules you must follow. Thank you and Merry Christmas to you and your entire family!
Your Friend,
Leo
—
Dear Leo,
I was quite intrigued to hear that your late Grandfather may hold the secret to warding entire cities against demonic possession! I will look into contacting him in Heaven or utilizing time travel to speak with him. It is true that various Universal laws of the holy Lord prevent me from resurrection without impunity! I will get to the bottom of this mystery. And nobody is ever too old to write me! Also fear not in the declaration of your love for Christmas and all you hold dear. Please consider this your first invitation to North Pole City to be my guest on Christmas. May you and your entire family be blessed this Christmas season!
Love,
Santa 🎅
Update: Santa couldn't find Leo's Grandfather in Heaven. However he detected him in Hell! He was kidnapped by demons due to finding out a secret vulnerability about them. Santa was tempted to storm Hell and rescue the poor man but Angels advised against it. Santa reached out to his Archangel Father Sarandiel who gained permission to covertly enter Hell for a quick rescue. He was discovered by demonic guards but threatened to cause great damage to Hell if the Grandfather wasn't released. The Devil personally negotiated an exchange of the Grandfather for two demons being held in Heaven. Leo's Grandfather went to Heaven and appeared at North Pole City to speak with Leo at Christmas. Unfortunately the Devil had wiped the sensitive demon information from his very soul! Santa wanted to go back in time to uncover the supernatural secret but his Father said the Devil and Hell's Archdemons would stop him! Unfortunately, for now, we will not know how to ward entire cities against demon possession!
---
Dear Santa,
Every year I come to North Pole City my bestest doll Julia comes to life but when I go home she doesn't move or talk anymore! For Christmas can you make Julia be alive forever even when I'm not visiting you! I can't wait to see you, Mrs.Claus, and Mary at Christmas! I made a drawing for everyone! Merry Christmas!
Love,
Emily
—
Dear Emily,
I am looking forward to seeing you and your parents again! I remember last year you and my daughter Mary nearly broke a vase playing hide and seek. Of course, you impressively used your telekinesis to catch it in time! I hope all is well at the school I told your parents about? I'll see what I can do about making your doll be permanently alive. Merry Christmas Emily!
Love,
Santa 🎅
Update: Santa gave Emily her immortal sentient animated doll for Christmas. It's powered by The Spirit Of Christmas and works off of Emily's sub-conscious as well. The Julia doll however goes dormant when anyone but Emily or her parents are in vicinity as per The Supernatural Secrecy Pact.
💌More To Come…Check Back Here At Christmas To See If Santa Made Their Dreams Come True!
See Also: The Hall Of Letters