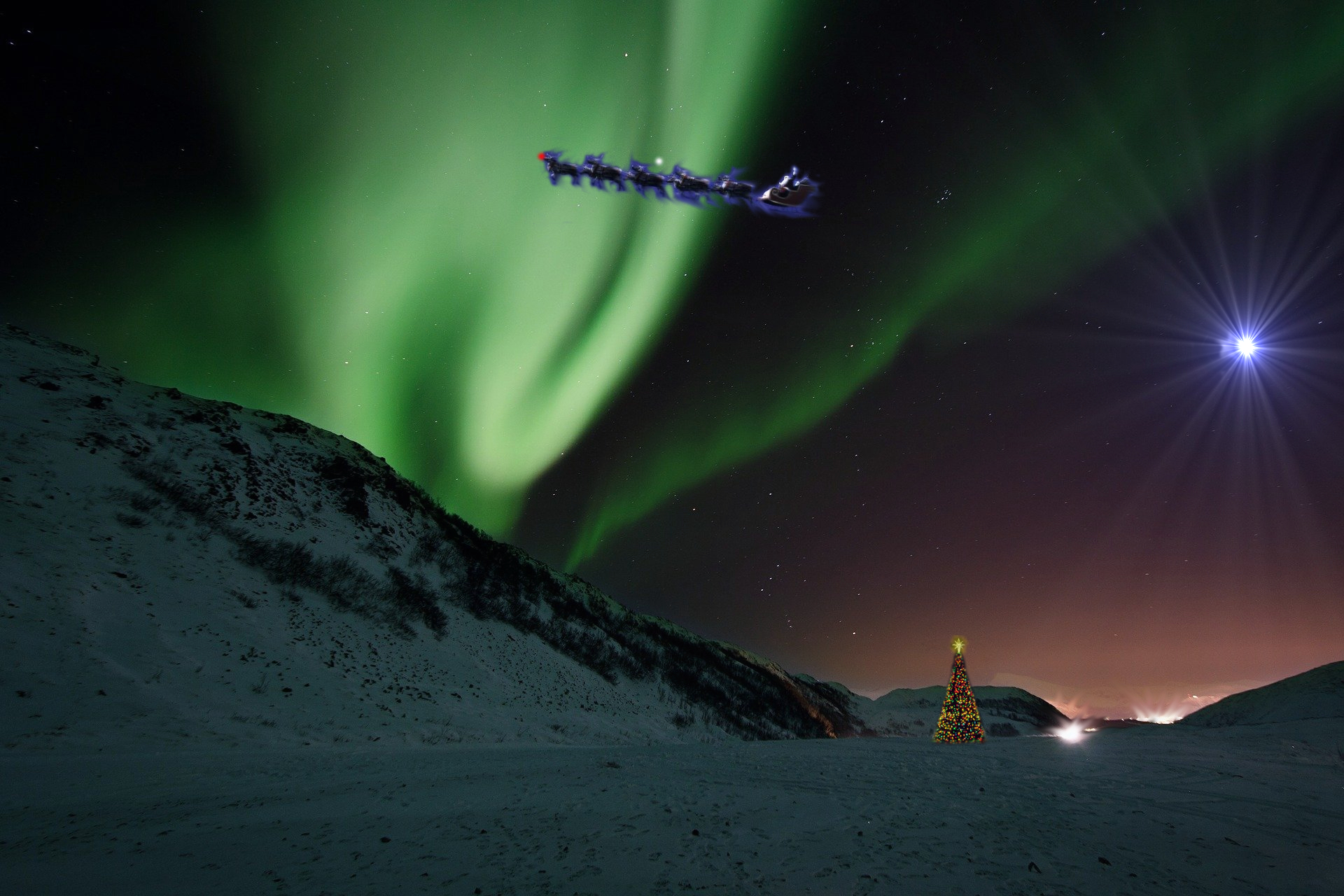 🎅Merry Christmas To All From Everyone At North Pole City!🎄
Santa Claus inspected his nine sentient flying reindeer and then gave a rousing speech to them and all the enchanted elves standing nearby. He entered his shimmering sleigh within the sainted sleigh port at The North Pole Toy Distribution Center. Elves loaded up several four-dimensional bags of gifts. The bewitched bags appear to be large red velvet satchels from the outside but within there is an exponential amount of space to store millions of Christmas presents! Santa performed a pre-flight check on his super sleigh before unrolling some of the sacred scrolls that contain The Nice List. As this occurred three guests hopped aboard. Each year two helper Elves and a special guest ride along. This year the guest was a seven-year-old member of the supernatural community who won the Christmas Eve Sleigh Ride Contest. The little girl in question has various psychic powers including the unique ability to channel the Spirit Of Christmas for the benefit of protecting humankind from various paranormal perplexities.
Santa's sleigh was cleared for take-off at 11:11 PM Christmas Eve (North Pole City Time). He and his fellow travelers took off into the starlit skies with a faint rainbow-colored Aurora glowing mystically forth. They flew west across the Arctic Ocean to their first stop along the International Date Line on Herald Island, Russia in Chukchi Sea. Even though the population is publicly known to be zero there are secret inhabitants who live there. A small community of Winter Elves who are related to Santa's Elves. The first gift of Santa's gift delivery goes to the High Chieftain of the Elves. However, the true First Gift Of Christmas goes to a specially chosen person each year. Earlier in the evening, Santa teleported to that person's house to present the gift personally with no need for them to remain asleep!
The Anti-Claus and his crazed cronies once against attempted to stop Father Christmas but failed as usual. This time an armada of magical beings showed up to defend Santa. A newly formed organization known as Santa's Angels. A righteous group of superhumans, magical practitioners, and those with psychokinetic powers who vow to defend Saint Nicholas and Christmas at all costs! They believe The Spirit Of Christmas is more essential to world peace than it ever has been before!
Through the use of magical light speed enchantments, channeling The Spirit Of Christmas, paranormal portals, and Santa's own Demi-Angelic chronokinetic powers he is able to deliver all presents by 4 AM Christmas Day to the last stop on the International Date Line. This is at the supposedly uninhabited Millennium Island in Kiribati. Various Nature Deities live there and Santa pays homage to them and Mother Earth with various paranormal presents. Some of Mother Earth's direct children were on the island as well eager to receive gifts from Santa. Afterward, he goes to Antarctica to visit an Elf outpost and a few other secret supernatural strongholds before flying back to North Pole City.
Upon returning to North Pole City the sleigh landed on Main Street to lead a grand parade of victory! Once back at Claus Manor there was a grand slam breakfast waiting for Santa, his family, and various honored guests. Naturally, they first opened gifts under their own Christmas tree. This included Mrs. Holly Claus and their kids Nick, Jr., and Mary. Interestingly enough, it was only in recent years that Santa put his children in charge of delivering Christmas gifts to the residents of North Pole City. After some other fun festivities, Santa will enter a much deserved long regenerative slumber of dreams filled with sugar plum fairies! Happy Holidays!⛄️